if($db_name==""){ include "includes/config.inc.php"; } $url = "http://$_SERVER[HTTP_HOST]$_SERVER[REQUEST_URI]"; $keys = parse_url($url); // parse the url $path = explode("/", $keys['path']); // splitting the path $pagina = end($path); // get the value of the last element ?>
BRASIL INOX 0-500gr./6' MAX. 2kg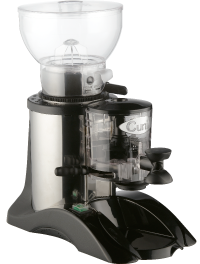 MAIN ATTRIBUTES
Hopper (1kg) made of unbreakable and non-deformable material (co.polyester), with fast lock system and self-levelling when off the coffee grinder, with the possibility of cleaning in a dishwasher at 90 °C. Micrometric regulation of the coffee grind using a regulatory pawl. New expulsion system for the ground coffee (always leaving the grinding cavity clean when the coffee grinder stops). Bodywork made of stainless steel, with ventilation system (internal air inlet and outlet). Large tray integrated into the body, ready to take knocks (portafilter). Single-bodied, hermetically sealed doser without aroma loss, vibrationless and made of unbreakable material. Ergonomic handle. Universal coffee tamper (rotatable). Doser fitted with gasket-saver (portafilter positioner). Hardened steel grinding blades (62/65 HRc) 60mm in diameter.
Optional
Left- or right-handed doser lever. Coffee counter. Optional personalisation system with chrome plates on the doser and on the rear of the bodywork. Automatic stop/start every two cups (depending on filling dispenser).
The professional coffee grinder for all types of coffee.
Medium use.
TECHNICAL CHARACTERISTICS

Stainless Steel
REFERENCE BRASIL
Voltage: 230V / 220V / 110V
Frequency: 50Hz / 60Hz
Phases: 1(monophase)
Rpm: 1.300 / 1.600
Current: 1,4A / 3A
Capacitor: 9nf / 40nf
Power: 0,12Hp / 275W
Protection rating: IP21
Motor supplied with thermal protector.
Maximum operating time: 30min.
Tempered steel grinding wheel (62HRc) 60mm diameter
Lifespan of grinding wheels:500Kg
Hopper capacity: 1Kg
Doser capacity: 300gr
Doser regulation: 5/12gr
Doser lever: right/left
Stop/start standard version: manual
Optional: automatic start
Dimensions width x length x height: 210x380x470mm
Weight: 8Kg
Air noise: 77dB
Pallet quantity:
27 units
Capacity of a 20' container:
504 units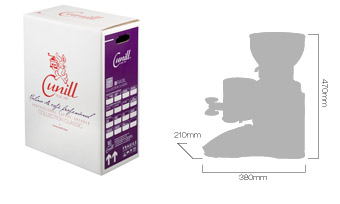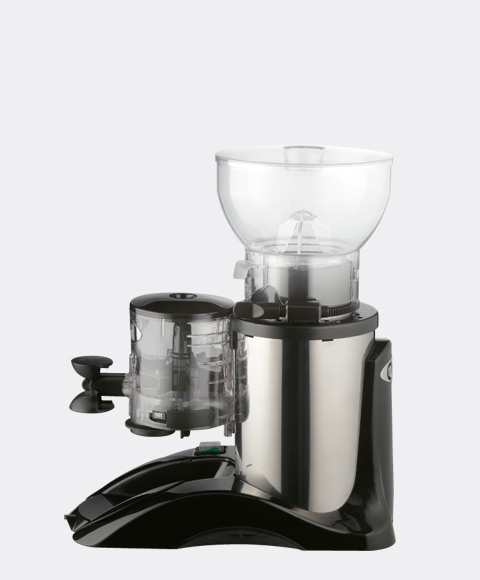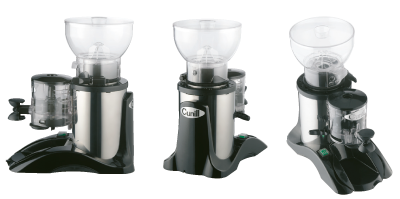 DOCUMENTATION
Grinding blades in tempered steel (62HRc) ø 60mm.
DETAILS THAT MAKE A DIFFERENCE